A handy guide on how to make aloe vera hydrosol at home, with or without steam distillation equipment!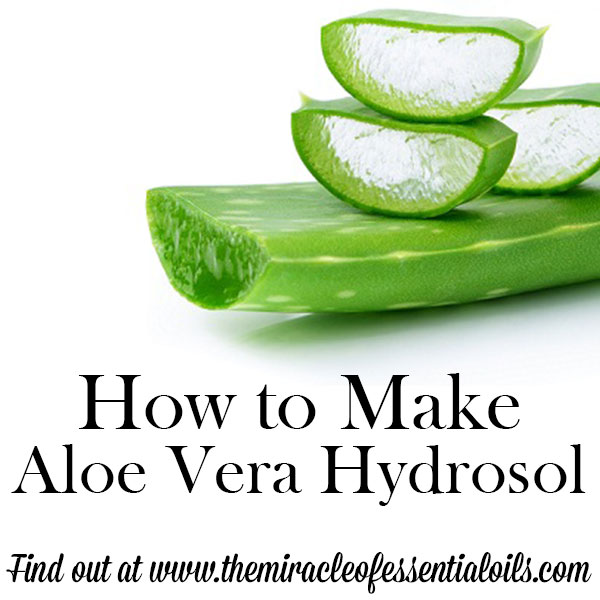 What is Aloe Vera Hydrosol?
Aloe vera hydrosol?!
There isn't aloe vera essential oil, so how can aloe vera hydrosol exist? After all, hydrosols are only the by-product of the essential oil distillation process, right?!
Actually, no! This is the beauty about hydrosols! They can be extracted for the sake of the floral water alone, even if there is no corresponding essential oil.
Similar hydrosols that have no essential oil equivalent include witch hazel and cucumber hydrosols.
The Benefits of Aloe Vera Hydrosol
Aloe vera, as a plant, has been used since ancient Egyptian times as a healing herb and health remedy. Aloe vera juice and aloe vera gel have therapeutic properties that have been used to treat skin ailments, acne, hair loss, constipation, wound dressing and more.
There are more than 75 active compounds, enzymes, vitamins, minerals and nutrients found in aloe vera that give it its incredible healing properties.
It helps repair and heal damaged skin cells, hair follicles and more. It is also great as a digestive tonic and helps in detoxification.
How to Make Aloe Vera Hydrosol at Home
It's surprisingly easy to make aloe vera hydrosol at home. All you need are a few equipments and plenty of fresh aloe vera!
Equipment needed:
Home distillation kit (where to get it) Getting your own home distillation kit is very handy if you're planning to be making hydrosols a lot or if you own a small natural herbal business. You can purchase the

PureStiller Lite Home Distillation Kit. All you need to do is load up your herbs, in this case cucumber slices, and water then place the equipment over a heat source! Since it's a transparent equipment, you can watch everything happening live! Obviously, this kit can also be used to distill essential oils at the same time. So it's a 2-in-one thing!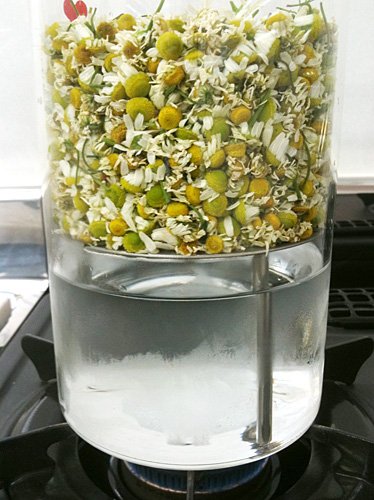 Or:
Raw materials:
10 – 15 leaves of aloe vera, chopped
Method:
Wash and clean your aleo vera leaves and begin chopping them. There are more than 420 species of aloe vera. The type of aloe vera you are using doesn't matter for purposes of this procedure. My aloe vera has less than succulent leaves with very little gel inside. It doesn't matter if your aloe vera leaves are juicy and filled with plenty of gel. Just chop them up and use them the way they are!
At this stage, if you have a home distillation kit, just load up the plant material in the steaming chamber and begin the steam distillation process by loading up the water chamber with pure water. Load up the plant material chamber with the aloe vera pieces. Turn on the heat and begin the steam distillation process.
If you don't have a home distillation kit, not to worry! You can get a little creative and use the make-shift distillation set-up with the alternative equipment listed above. Continue with the following steps:
Line the chopped aloe vera evenly across the bottom of the pan.
Now pour in just a little water (about ¼ way below the aloe vera pieces). If you miss this step, you will end up roasting the aloe vera at the bottom of the pan. There won't be any steam coming through the aloe vera either, so it will totally defeat the purpose of steam distillation!
Now place a brick on top of the aloe vera. Next, place your heat-resistant bowl on top of the brick.
Turn on the heat to medium-low and place the lid on top of the sauce pan. Over the lid, place your 2 ziplock bags filled with ice cubes/crushed ice/ice block. The zip lock bags will help contain the ice as it melts.
The whole process may take any where between 15 to 25 minutes, before your bowl/pyrex cup gets full. You can add extra water to the bottom, empty the bowl and place it back in.
The water that collects in your bowl is your beautiful aloe vera hydrosol!
How to Use Aloe Vera Hydrosol
There are many creative ways in which you can use aloe vera hydrosol for your skin, hair, health and well being. Remember to do a patch test first.
Read: Aloe Vera Hydrosol Benefits, Uses, Tips and More!
For more ideas on how to use aloe vera hydrosol, read: 25 Ways to Use Hydrosols
Don't Have time to Make Your Own? Try this!

Aloe vera juice! It's an amazing skin soother and healer for sunburns and irritations. Get pure organic aloe vera juice here.
My favorite aloe vera product is the oh-so-cooling and soothing gel! You can get 100% pure high quality organic aloe vera gel here.