There are several ways on how to use essential oils to scent a room! Discover them below!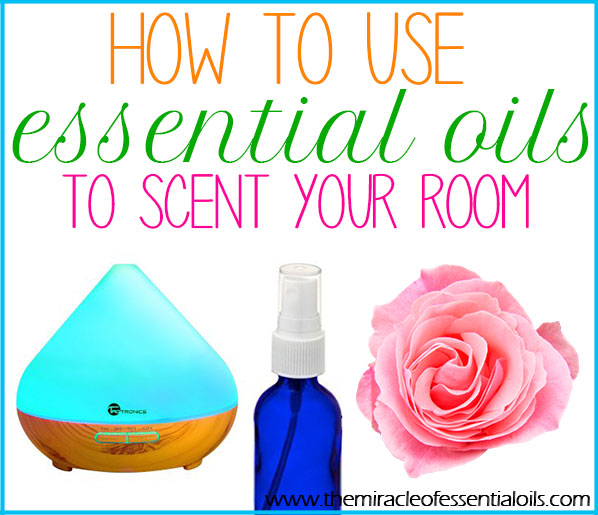 Essential Oils Have Natural Fragrances
The reason many people just love essential oils is because they have gorgeous scents. Take for example ylang ylang – it has a unique sweet floral and bubbly scent that is super long lasting. Lemon essential oil meanwhile has a clean, fresh lemony scent. Peppermint essential oil has a refreshing crisp scent, and so on!
Essential oils don't just smell good – their scents contain therapeutic properties! Ylang ylang essential oil is said to calm nerves and promote positive energy, lemon essential oil makes you happy and peppermint essential oil energizes and uplifts you!
The natural fragrances of essential oils are very popular in aromatherapy, perfumery and body care. You can find essential oils as ingredients in air fresheners, shampoos, colognes, body sprays and much more because they have mesmerizing scents.
In this article, we shall be looking at how to use essential oils to scent a room.
Nice Smelling Essential Oils to Scent Up Your Room
Lavender essential oil
Lemon essential oil
Sweet orange essential oil
Rosemary essential oil
Jasmine essential oil
Ylang ylang essential oil
Rose essential oil
Geranium essential oil
Peppermint essential oil
My favorites are lemon, rose, jasmine and ylang ylang!
How to Use Essential Oils to Scent a Room
1. Using a High Quality Essential Oils Diffuser
This is by far the best and easiest way to scent a room using essential oils. You need to purchase a high quality essential oils diffuser. You can select one or two from here: Top 10 Best Essential Oil Diffusers Under $20 and Best Essential Oil Diffusers Under $50. One of our all-time favorite diffusers is this AMIR Frosted Glass Essential Oil Diffuser. It's under $50, noiseless, works very effectively, can be used in any area of the home and lasts a long while!
To use a diffuser to scent a room, just add about 6 drops of your essential oil or essential oil blend. Next pour in the required amount of water, following the manufacturer's instructions: some diffusers require 90ml of water while some require more. Now run the diffuser for up to an hour to scent up a room.
2. DIY Room Spray
You can make your own DIY essential oil room spray! And it is so easy. Just get a 8 oz spray bottle, now fill it up with distilled water then add 30-40 drops of essential oil of your choice. Shake well and mist around the room!
3. DIY Essential Oils Reed Diffuser
Learn how to make a simple essential oils reed diffuser in this post: DIY Essential Oil Reed Diffuser
4. Baking Soda + Essential Oils Jar
Get a 8 oz mason jar. Fill it up ½ way with baking soda. Now add 25 drops of essential oil(s) of your choice. Cover the mason jar with a cloth and secure the cloth with a plastic band. Place the jar in a corner of the room. The baking soda + essential oils mixture will scent up the air. Be sure to shake the jar when needed to disperse the scent into the air. Replace the baking soda and essential oils every 2-4 weeks.
5. DIY Essential Oil Soy Candles
Forget the toxic store-bought candles! Make your own DIY Essential Oil Soy Candles (follow the link to see how to).
Caution
If you're new to essential oils, please first read Caution and Safety when Using Essential Oils