Check out this DIY peppermint essential oil mouthwash recipe for fresh breath and good oral health!
Peppermint essential oil is one of the most popular essential oils added to oral care products such as toothpaste and mouthwash. That's because it is rich in menthol that freshens breath and neutralizes bad odors. Peppermint essential oil is also good for disinfecting the mouth by killing bacteria with its strong antibacterial properties. It protect teeth from cavities and decays.
In this post, let's learn how to make a peppermint essential oil mouthwash with a few effective ingredients, shall we?!
Ingredients Used and their Benefits
Baking soda – Naturally removes stain from teeth, fights cavity-causing bacteria
Distilled water – is the base ingredient for this mouthwash. You can also use a hydrosol such as lavender hydrosol. Do not use tap water or filtered water because then your mouthwash won't last long
Tea tree essential oil – kills bacteria & germs in the mouth by disinfecting it
Sea salt – is antibacterial and neutralizes bad breath
Peppermint Essential Oil Mouthwash Recipe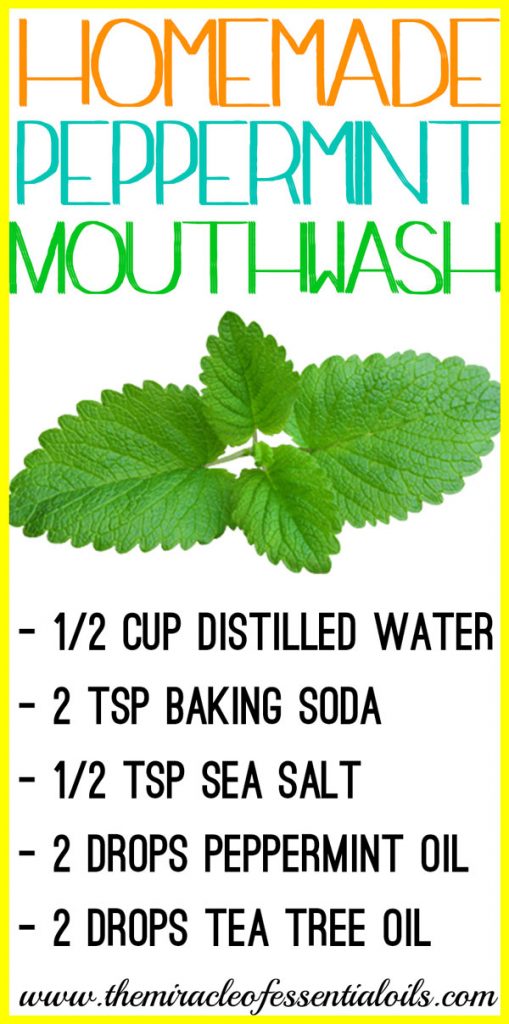 What you need:
½ cup distilled water
2 tsp baking soda
½ tsp sea salt
2 drops peppermint essential oil
2 drops tea tree essential oil
Bottle for storage
Directions:
In a suitable container such as a bottle, pour in ½ cup of warm distilled water.
Now dissolve in it 2 tsp baking soda and ½ tsp sea salt.
Next add 2 drops each of peppermint and tea tree essential oils.
Close the bottle tightly and shake well to combine.
Use as your usual mouthwash!
You'll Also Like:
Are you ready to try the above peppermint essential oil mouthwash recipe?