Stressed out? Use any of these 15 essential oil diffuser blends for stress!
Diffusing essential oils is one of the best stress busters. Essential oils have powerful stress relieving properties. They soothe the mind, oxygenate the brain, improve mood, calm frayed nerves, energize the body, fight depression and so much more!
If you want to read more about essential oils for stress, please see:
Where to Get a High Quality Diffuser
Before we look at the diffuser blends for stress, ensure to get a good high quality essential oils diffuser. If you want some good recommendations that have affordable prices, please check out Top 10 Essential Oil Diffusers Under $20 and Best Essential Oil Diffusers Under $50.
Don't Miss: Our Essential Oil Ebooks
One of my personal favorite diffusers is this  Frosted Glass Essential Oil Diffuser, Amir® 300ml Cool Mist Ultrasonic Humidifier – 4 Timer Settings,10 Hours Continuous Mist,7 Color Changing LED,Waterless Auto off- for Office, Spa, Baby Room, Etc.
It's under $50, noiseless, works very effectively, can be used in any area of the home and lasts a long while!

Now let's check out 15 Essential Oils Diffuser Blends for Stress!
15 Essential Oil Diffuser Blends for Stress
Add the essential oil drops to your diffuser, add the required amount of water (following the manufacturer's instructions) then diffuse for 15-60 minutes.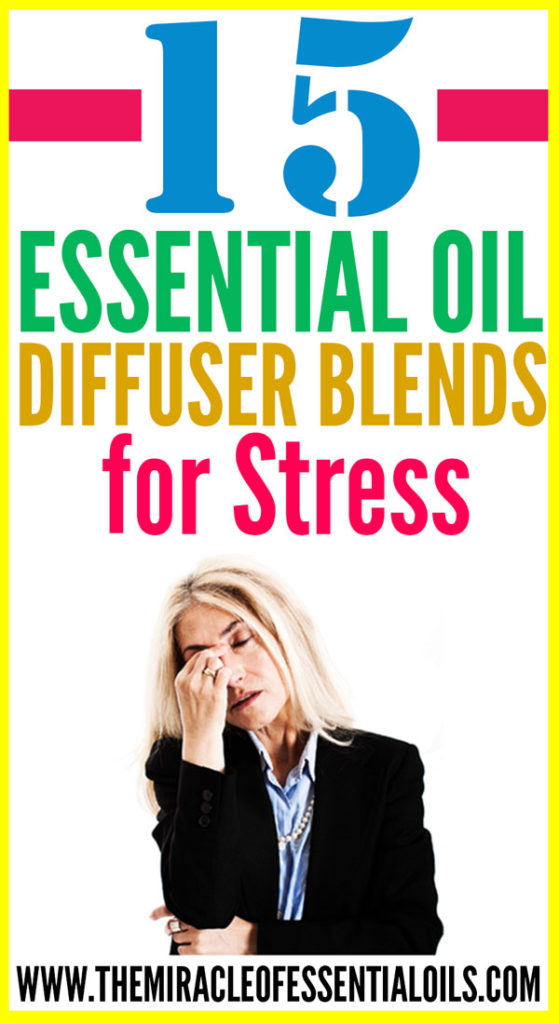 1. Bye Bye Stress
5 drops lavender
3 drops vetiver
2 drops ylang ylang
2. Clear Your Head
3 drops eucalyptus
2 drops peppermint
2 drops rosemary
3. De-Stress & Relax
2 drops ylang ylang
2 drops bergamot
2 drops lavender
4. Meditation
3 drops frankincense
3 drops lavender
3 drops bergamot
5. Calm Frayed Nerves
2 drops lavender
2 drops wild orange
1 drop geranium
1 drop clary sage
6. Headache Reliever
2 drops marjoram
2 drops thyme
2 drops rosemary
2 drops peppermint
2 drops lavender
7. Soothing
5 drops clove bud
2 drops frankincense
2 drops lemon
8. Diffuse the Day Away
1 drop lavender
1 drop bergamot
1 drop patchouli
1 drop ylang ylang
9. Peaceful Mind
3 drops patchouli
2 drops cypress
2 drops bergamot
10. Restful Afternoon
2 drops lavender
2 drops sweet marjoram
1 drop geranium
11. Fatigue
4 drops grapefruit
3 drops peppermint
3 drops rosemary
12. Refreshing
3 drops bergamot
2 drops grapefruit
1 drop lemon
1 drop ylang ylang
13. Chill Out
3 drops grapefruit
3 drops sweet orange
2 drops lemon
1 drop bergamot
14. Citrus Burst
2 drops sweet orange
1 drop lemon
1 drop lime
1 drop grapefruit
15. Uplifting Blend
3 drops grapefruit
2 drops wild orange
2 drops lemon
2 drops bergamot

Diffuse any of the above essential oil diffuser blends for stress and just R E L A X …