Here's a list of the top essential oils for dark spots on the face! You can use any of them through the recipes provided below to fade away those unsightly marks fast!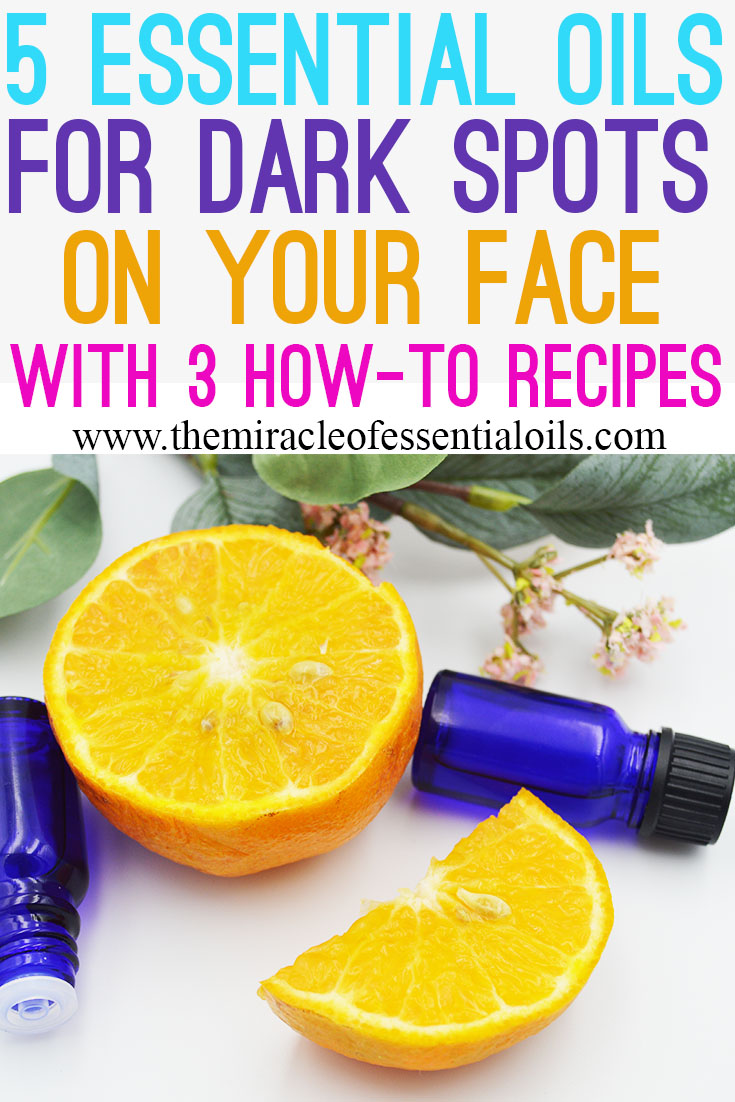 Having dark spots on the face is common for many women and men. These dark spots can be in form of the following:
Acne scars
Blemishes
Moles
Skin tags
Age spots also known as liver spots
Hyperpigmentation marks
Melasma
And more
Many people want to get rid of dark spots fast because they might be embarrassed about them. Thankfully, there are very many home remedies you can use to fade away these spots naturally . Yes, you do not have to go to the dermatologist for pricey creams and laser treatments! Home remedies work very effectively but the only thing is that you have to be consistent with them. Quitting halfway through using them won't give you clean results.
How Essential Oils Remove Dark Spots on the Face
In this article, we shall look at how to use essential oils for dark spots. Essential oils are one natural remedy to bust dark spots. What makes them so special? Well, it's all in their therapeutic properties! Here are some of the therapeutic properties of essential oils good for dark spots that we shall see below:
Skin lightening & brightening properties – Essential oils like the ones listed below have skin lightening & brightening properties. It's because of their unique chemical constituents. For example, lemon essential oil contains limonene, a major constituent that has skin lightening effects.
Anti-inflammatory properties – Many scars are often inflamed especially new scars, giving them a red appearance. By reducing inflammation, essential oils can diminish the appearance of the scar.
Cicatrisant properties – The essential oils listed below have cicatrisant properties. This means that they can heal the formation of a scar tissue and reduce its appearance!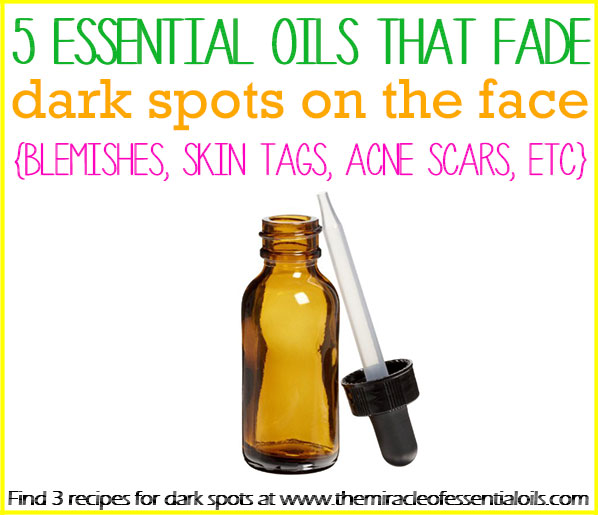 Top 5 Essential Oils for Dark Spots on the Face
Here are the best 5 essential oils for dark spots on the face:
1. Lemon Essential Oil
2. Sandalwood Essential Oil
3. Carrot Seed Essential Oil
4. Sweet Orange Essential Oil
5. Frankincense Essential Oil
Note: Lemon and sweet orange essential oils are photosensitive. This means they react with sunlight. If you're wearing any or both of these oils and you expose your face to sunlight, you can get negative reactions. So please use preparations made using these oils only at night time.
How to Use Essential Oils for Dark Spots on the Face
Below, we shall look at three recipes for common dark spots that affect the face: acne scars, skin tags & moles and blemishes
1. Acne Scar Serum
This acne scra serum is for night time use only. If you can't use it at night time, then replace lemon oil with carrot seed oil
What you need
½ tbsp rosehip seed oilrosehip seed oil
½ tsp argan oil
4 drops lemon essential oil
4 drops frankincense essential oil
Small funnel
1 oz amber glass dropper bottle
Directions
Using a small funnel, pour the rosehip seed oil and argan oil in your amber bottle.
Carefully add the essential oils.
Screw on the cap and shake gently to combine everything.
To use, place 3 drops on your palm, rub both palms together and gently dab them on your face. Use only at night time since lemon oil is photosensitive (reacts with sunlight).
2. Spot Treatment for Skin Tags & Moles
What you need
A pinch of baking soda or more depending on how big your mole/skin tag is
¼ tsp castor oil
1 drop frankincense essential oil
Small dish
Directions
In a small dish, mix up the baking soda, castor oil and frankincense essential oil.
Apply it on your mole/skin tag to cover it completely. To apply, use your clean finger (which you'll wash afterwards) or a Q-tip.
Leave it on overnight if possible or at least 2 hours. Do this everyday.
3. Blemish Busting Roll-On
This recipe is also for night time use due to the lemon and sweet orange oils added.
What you need
6 drops lemon essential oil
6 drops frankincense essential oil
6 drops sandalwood essential oil
6 drops orange essential oil
6 drops carrot seed essential oil
Argan oil
10 ml roll on bottle
Roller ball remover tool
Directions
Remove the roller ball from the bottle using the roller ball remover tool.
Now carefully drip in 6 drops of all the essential oils mentioned.
Top off with argan oil.
Push back the roller ball firmly onto the bottle and screw on thee cap.
Your blemish buster is ready! Roll onto blemishes at night time to heal them.
Caution