Want to learn how to use essential oils for anxiety? Read the article below!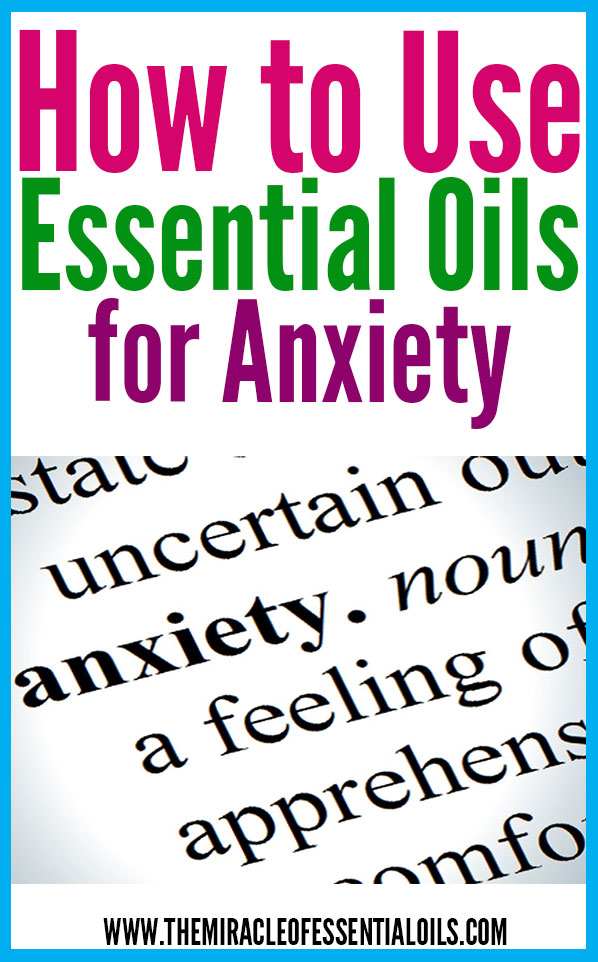 Essential Oils for Anxiety
Anxiety is a natural emotion felt by all humans. You can get anxiety before meeting someone, while travelling to some place, before taking an exam, before public speaking, etc. Anxiety happens when you're going to do something new or something you don't want to do. It can also occur due to fear of something going wrong.
To naturally calm anxiety, you can use the power of certain essential oils effectively. These essential oils clear and soothe the mind, promote deep and easy breathing, oxygenate the brain and calm down erratic thoughts and emotions. Check out the Top 20 Essential Oils for Anxiety Disorder
Whether you're having short term anxiety (that's normal), chronic anxiety or anxiety disorder, the above essential oils are sure to help you calm yourself.
Also check out our DIY Essential Oil Blend for Anxiety. You can keep this blend handy and dilute it before using in a roller bottle, diffuser, bath blend, massage oil, etc.
How to Use Essential Oils for Anxiety
There are many ways to use essential oils for anxiety. Below are 5 of the most effective ways!
1. Add Essential Oils to your Hanky
This is one of the easiest ways of using the power of aroma therapy. Simply get any Essential Oil for Anxiety. Choose from lavender, rose, vetiver to ylang ylang. Now add 1-3 drops on your hanky. Anytime you feel anxiety kicking in, inhale deeply from your hanky.
2. Diffusing
Diffusing is a great way of calming anxiety! There are several essential oils for anxiety including lavender, ylang ylang, rose, chamomile, sandalwood, etc that can be diffused. Simply add 6 drops of essential oil to your high quality diffuser, following the manufacturer's instructions. Diffuse for 15-60 minutes three times a day.
3. Aroma therapy Inhaler
This is a quick and handy way to quell anxiety wherever you may be – whether it's right before public speaking, in the car, at the office, in the exam room, etc. That's because you can easily carry your aroma therapy inhaler with you in your pocket, purse or school bag!
4. Anxiety Roll-On Blend
What you need
12 drops lavender essential oil
8 drops rose essential oil
4 drops vetiver essential oil
Grapeseed oil
10 ml roller bottle
Directions
Remove the roller ball from the bottle and carefully drip in 12 drops of lavender oil, 8 drops of rose oil and 4 drops of vetiver oil.
Top off with grapeseed oil.
Push the roller ball back firmly onto the bottle.
Screw on the cap and shake the bottle to combine all ingredients.
Roll behind your ears, on the nape of your neck, collar bones, on your hair ends, inner elbows and wrists.
Check out our Homemade Essential Oil Sleep Cream recipe!
5. Anti-Anxiety Bath Salts
What you need
1 cup Epsom salts
½ cup Himalayan pink salt
12 drops lavender essential oil
8 drops rose essential oil
4 drops vetiver essential oil
4 drops frankincense essential oil
Directions
In a large bowl, add 1 cup Epsom salts and ½ cup Himalayan pink salt.
Add the essential oils.
Whisk everything together to combine.
Transfer into an air tight container.
Add 2 handfuls or ½ to 1 cup of the bath salts to a warm bath and stir well with your hand.
Soak for as long as you want.
Caution