Earlier, we looked at the 11 Calming Essential Oils for Sleep and Relaxation. But today, we're going to focus on just 5 of the very best essential oils for sleep and relaxation.
In today's world, it's not uncommon to find every other person with some form of sleep disorder. Many of us have trouble falling asleep, restless sleep or poor quality sleep and often wake up feeling tired. Chronic lack of good quality sleep can lead to all sorts of issues in the long run. Luckily certain tools like essential oils can help improve and promote restful sleep.
If you could choose just 5 essential oils for sleep and relaxation, these are the ones you should go for: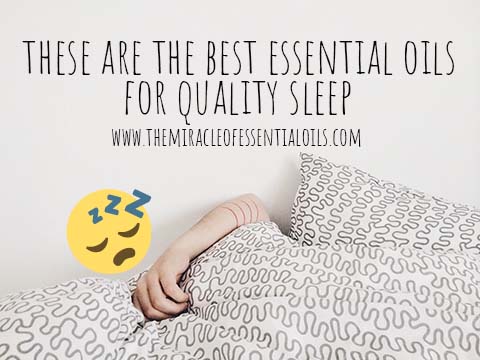 What Are The Best Essential Oils for Sleep and Relaxation?
1. Lavender
Lavender is easily my favorite essential oil in the world. I simply cannot go a day without lavender. It is amazing for anxiety and it got me through my labor and delivery. There's a reason why lavender is so popular – it really works, that's why. Check out this DIY Essential Oil Pillow Spray to help you get better sleep tonight.
Don't miss: Does the Smell of Lavender Help You Sleep?
2. Vetiver
Although not as popular as lavender, vetiver is actually one of the best essential oils for sleep and relaxation. Like most essential oils distilled from the root of the plant, vetiver has a deep, earthy scent. Vetiver helps calm the nerves and helps ease you into a restful state. It is a very grounding essential oil that helps root you and settles you down.
Don't miss: 6 Beauty Benefits of Vetiver Essential Oil
3. Frankincense
Touted for its immense anti-aging properties, frankincense is another one of the best essential oils for sleep and relaxation. Frankincense is an ancient oil that is distilled from the resin of the Boswellia tree. It is a sanctified oil, much like sandalwood, and is revered for spiritual purposes.
Don't miss: 20 Best Frankincense Essential Oil Diffuser Blends
4. Cedarwood
Another excellent essential oil for better sleep is cedarwood. It is a grounding oil with a woodsy scent. There have been so many studies to confirm the benefits of cedarwood oil. Not only was it found to lower heart rate and reduce hypertension, but it also has sedative properties that will promote good sleep.
Don't miss: 10 Essential Oil Diffuser Blends for Sleep
5. Roman chamomile
Roman chamomile is an excellent calming essential oil with sedative properties. Sipping on chamomile tea is known to promote better sleep. In the same way, diffusing essential oils like roman chamomile help calm you down and put you to bed with ease.
Don't miss: Top 10 Essential Oils for Insomnia including 3 DIY Recipes for Better Sleep