Do you know about some of the amazing carrot seed essential oil skin benefits? You should, because carrot seed is one of the most important essential oils in the beauty scene! Find out why below!
About Carrot Seed Essential Oil
Carrot seed oil comes from the seeds of the Wild Carrot, scientifically known as Daucus carota, of the Umbelliferae or Apiaceae family. It's also called Queen Anne's lace in certain European countries. The plant's origin has been traced back to Egypt, India and France.
The extraction of Carrot seed oil is done through steam distillation of the carrot plant's dried seeds. The oil is marked by a distinct earthy and woody fragrance and is generally a brownish yellow color. Chemical analysis has revealed that it's also rich in compounds like a & b-pinene, myrcene, camphene, sabinene, limonene, carotol and geranyl-acetate. Carrot seed oil's natural antioxidant content is also high with a rich presence of carotene and vitamin A. All these in their totality make the oil an effective antiseptic, carminative, depurative, antiparasitic and emmenagogue medicinal agent.
Where to Buy Carrot Seed Essential Oil
Edens Garden Carrot Seed Essential Oil, 100% Pure Therapeutic Grade (Skin Care) 10 ml

Top 10 Carrot Seed Essential Oil Skin Benefits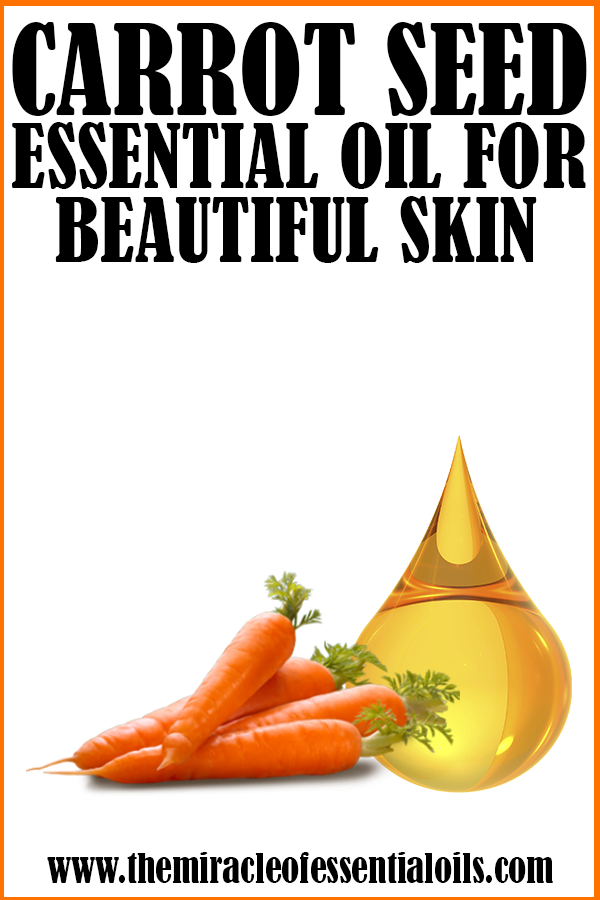 There are so many carrot seed essential oil skin benefits, but here are just 10 that you can derive from using the oil:
1. Improves overall skin health:
In spite of its multi-faceted uses, carrot seed oil is mostly used as a skin tonic. Because of its rich carotol content, you can directly apply the oil on your skin to boost its cell generation which in turn enhances its health and appearance. The oil is also known to be an excellent skin toning and tightening agent.
Make a face mask comprising one teaspoon of bentonite clay, one teaspoon of aloe vera gel and two drops of carrot seed essential oil, apply to the face and keep for ten minutes. Wash off with lukewarm water for that perfectly refreshed look. Read: Top 5 Essential Oils to Look 10 Years Younger
2. Prevents & eliminates wrinkles:
Carrot seed oil's high natural antioxidant content prevents premature dermal ageing by protecting it from the body's free radicals and effectively tackles wrinkles, spots, patches and age-induced blemishes. A weekly carrot seed oil face & neck massage with 1 teaspoon argan oil and 3 drops of carrot seed essential oil leaves the skin supple and toned always. Read: 9 Safe Essential Oils for Under Eye Wrinkles + How they Work
3. Protects skin from sun damage:
Solar UV rays are known to wreak havoc on the skin and definitely speed up the skin ageing process. By regularly applying carrot seed oil on the face, not only do you protect the skin from sun damage but rejuvenate your dermal cells. Sunburn too, can be treated by applying a combination of aloe vera gel and carrot seed oil to the affected parts of the body for a soothing and cooling effect. Read: DIY Carrot Seed Essential Oil Sunscreen Recipe
4. Treats inflammatory dermatological conditions:
The anti-inflammatory properties of carrot seed oil have been known for centuries and used to treat numerous skin conditions like acne, psoriasis and eczema.
5. Antiseptic for cuts, minor wounds & grazes:
The potent antiseptic properties of carrot seed oil make it an excellent agent to treat minor grazes, insect bites, minor wounds and scratches. It prevents bacteria from growing on such wounds to cause secondary issues later. However, caution should be taken never to apply it to open wounds and it should be used only for treating and cleansing minor injuries. Read: Tea Tree Oil for Skin Tags | Quick Natural Remedy
6. Guards against skin cancer:
A research in 2011 on rats has revealed that carrot seed oil has anti-carcinogenic properties as well. A sample of more than 10,000 rats with skin cancer were tested with the oil and the results were highly promising.
7. Controls dermal sebum production:
The oil balances both oily and dry skin types by naturally regulating the skin's sebum production. While excessive production may lead to acne and pimples, reduced generation leads to dry and flaky skin. Regular application of the oil thus, balances both skin conditions.
8. Brightens dull skin:
Carrot seed oil is also called a skin polishing oil because of its brightening effects.
For tired and dull skin, a night serum comprising two tablespoons of argan oil, four drops of lemon essential oil and seven drops of carrot seed essential oil may be made and stored in an amber dropper bottle.
Take about three to four drops and massage your face and neck at bedtime, leaving it overnight. It works on both acne prone and oily skin types.
9. Treats rosacea effectively:
Rosacea is a skin condition that results in inflammation and redness. We can apply carrot seed oil regularly to reduce the inflammation when a few drops of it are added to a moisturizer and applied to the affected areas.
10. Lightens skin tone:
Many people turn to carrot seed oil for skin lightening. Carrot seed oil when combined with lemon oil and applied regularly, lightens skin color. A combination of two drops of carrot seed essential oil, lemon essential oil and frankincense essential oil each and one tablespoon of shea butter applied daily at bedtime shows definite skin tone improvement. Read: Top 8 Essential Oils that Clear Hyperpigmentation
Do you use carrot seed essential oil? What are some carrot seed essential oil skin benefits that you experienced?