Learn how to make the easiest DIY essential oil face wipes that are also reusable! These face wipes are safe for acne prone and oily skin!
Cleaning your face with face wipes feels so good and refreshing. Especially when you get back home late at night and just wanna drop dead on your bed. However, we all know sleeping with makeup on is a big recipe for disaster: comedones, clogged pores and blackheads are what you'll be attracting!
So what do you do when you come back home super fatigued and don't want to wash your face? Use face wipes, of course! But unfortunately, buying face wipes for everyday use can get quite expensive. And if you're someone who detests alcohol and artificial fragrances found in most commercial face wipes, then you wouldn't want to use them on your face, right?
That's why in this post, I'm gonna show you how to make your own DIY essential oil face wipes! And they're reusable too so you can save more money! Let's check out the ingredients we're going to be using:
Distilled water: Distilled water doesn't contain any bacteria or germs that'll spoil your face wipes. Don't use tap water.
Witch hazel: This is a great facial cleanser. It also tones skin and has antibacterial properties.
Jojoba oil: Jojoba oil is moisturizing and since it has a molecular structure similar to sebum, it's one of the best skin care oils. Feel free to use any other carrier oil of your choice. You can use liquid coconut oil, argan oil, sunflower oil or olive oil.
Tea tree essential oil: It's antibacterial and has disinfectant properties. It's a great cleaning essential oil. If you have acne, tea tree oil should be added to your DIY face wipes without fail.
Lavender essential oil: Did you know that lavender comes from the Greek word lavare which means 'to wash'? Yup, so this essential oil def needs to be a part of your recipe. Plus it's gentle on sensitive and inflamed skin.
If you don't want to use tea tree and lavender essential oils, please feel free to use any other essential oils of your choice:
Read more: What Essential Oils are Good for Your Face?
DIY Essential Oil Face Wipes
What you need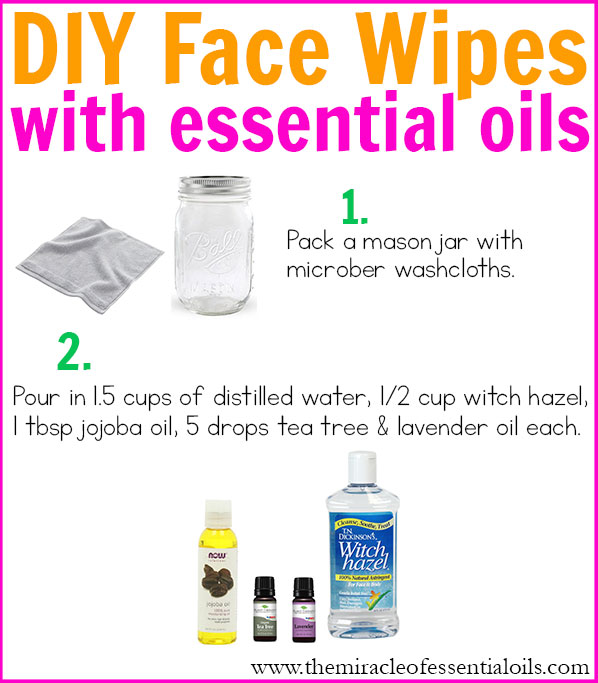 Directions
Into your Pyrex measuring cup, add 1.5 cups of distilled water, ½ witch hazel, 1 tbsp jojoba oil, 5 drops tea tree essential oil and 5 drops lavender oil.
Mix them up together with a spoon and keep your mixture aside.
Next, get 12 soft microfiber facial washcloths. You can also use cotton cloths, especially if you have acne or sensitive skin. You should have washed the microfiber cloths before hand to make sure they're clean and soft.
Now stuff the cloths in the mason jar.
Pour the mixture in the Pyrex cup over the washcloths in the jar to submerge them completely.
Close the lid and what do you know?! Your DIY essential oil face wipes are ready for use!
To use, get a washcloth, squeeze out the excess liquid and wipe your face. Then you can jump into bed. Throw the used washcloths into your washing machine.
Other Posts You'll Love