You can make your own DIY essential oil foaming face wash right at home using just a few ingredients!
Facial skin is sensitive, everyone knows that. Store-bought face washes make most people's skin very dry. Plus don't forget that most of them contain unnecessary chemicals and a ton of artificial fragrances that worsen skin. This is why more and more people want to know how to make their own face washes and facial cleansers. Including me!
When I first started my natural skin care journey, I used stuff like oatmeal, coconut oil, baking soda and honey to cleanse my skin. But there are times when I missed a nice foaming face wash. Especially after a long night out or at work. You know the times when you come back home and you just wanna lather up with some no-hassle face wash, rinse off, pat dry, moisturize then flop onto your bed. During such late nights, I would feel so lazy to start opening the sticky honey jar, applying the stickiness, then washing it off. I felt so reluctant to use such homemade face washes that sometimes, I ended up using bar soap to wash off my face! And the whole point of using homemade face washes was to avoid chemicals in the first place!
So when I got the idea of whipping up a DIY essential oil foaming face wash, it was just gold for me! Check out the easy recipe below:
How to Make a DIY Essential Oil Foaming Face Wash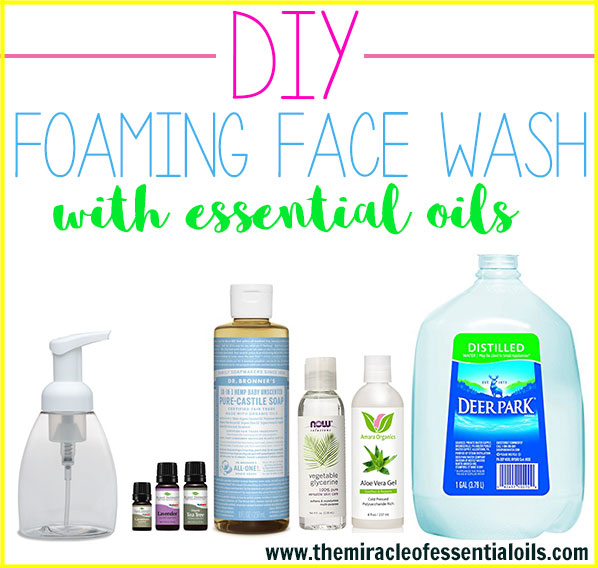 What you need
Directions
What you're going to do is to add ¼ cup of distilled water into the Pyrex measuring cup. Now add 2 tsp jojoba oil, 2 tsp vegetable glycerin and 2 tsp pure aloe vera gel. Blend all the ingredients together using an immersion blender or a whisk.
Once blended, pour the solution into your foaming soap dispenser using a small funnel.
Measure out ¼ cup of liquid castile soap in the Pyrex measuring cup.
Slowly pour it into the foaming soap dispenser bottle.
Now it's the fun part! Time to add essential oils! Carefully add 4 drops lavender oil, geranium oil and tea tree oil!
Close the bottle and shake gently to combine!
To use, pump some foam onto your hand and lather up your wet face.
Rinse off with lukewarm water first then cold water.
Pat your face dry and moisturize with 2-3 drops of argan oil or a pea-sized amount of shea butter.
Caution & Tips
DIY Essential Oil Recipes for the Face