Understanding Eczema and Psoriasis
Eczema and psoriasis are both distressing skin conditions that look similar. They are both characterized by:
Dry patches of skin
Itchiness
Flakiness
Redness
Psoriasis is known to be an autoimmune condition. However, recent studies show that eczema could be an autoimmune disorder, too. So what's the difference between the two?  They both look like rashes but with psoriasis, there's a distinct border around the flaky patches of skin.
Eczema causes the skin to be very sensitive to allergies, changes in diet, infections and irritations. In psoriasis the cells of the skin regenerate at an abnormal speed, causing extreme flakiness. Both conditions can be in certain parts of the skin or cover the whole body.
Using Essential Oils for Eczema and Psoriasis
If you go to your doctor, you will be prescribed topical creams, including steroid-based treatments to keep your eczema and psoriasis under control.
But there are many natural tools that we can use to manage and heal our skin. One of the best natural tools is essential oils for eczema and psoriasis relief.
Essential oils are highly concentrated plant extracts that capture the medicinal properties of a plant in one bottle. They contain numerous complex compounds that give them amazing therapeutic properties. For eczema and psoriasis, we will focus on the essential oils that are rich in the following properties:
Anti-inflammatory – brings down swelling and redness
Analgesic – pain relieving
Antimicrobial – to fight against viruses, fungi & bacteria that cause infections
Soothing and calming – to bring down the itch
Detoxifying – to remove toxins and allergies
Relaxant – to promote relaxation
And more!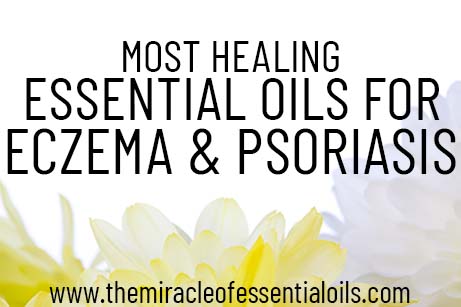 How to Use Essential Oils for Eczema & Psoriasis
You might be wondering how exactly you should use essential oils for eczema and psoriasis in order to get the best results. There are 3 main ways, as follows:
1. Detox Bath
Especially in the cases of full body eczema or where the psoriasis covers a large part of the body, a detox bath with essential oils is highly useful. Fill up your bath with hot water and pour in 1 cup of clay (such as rhassoul clay). Add ½ cup of apple cider vinegar. Next, pour in 25 drops of your essential oils (from the list below). Soak for 20 minutes to 1 hour. Learn more: DIY Detox Bath with Essential Oils
2. Topical application
You can apply the diluted essential oils onto your problem areas in the skin. You can slather a quick layer of your diluted oils, or even give yourself a relaxing massage. What's more, you can also try an eczema spray to soothe and refresh your skin.DIY Lymphatic Massage with Essential Oils
3. Foot Soak/Hand Soak
For eczema and psoriasis on the feet or hands, prepare a foot soak (or hand soak). Simply fill a bowl with hot water (warm enough to soak). Add 2 tablespoons of apple cider vinegar and 8 drops of your chose essential oil. Soak your feet or hands for 20 minutes for soothing relief.
Top 11 Essential Oils for Eczema & Psoriasis
Now let's have a look at the 11 best essential oils for eczema and psoriasis:
1. Lavender
The world's most loved essential oil, lavender, is an excellent essential oil to soothe skin conditions like eczema, psoriasis, rosacea and more. Not only is lavender essential oil an excellent  antibacterial, it also has amazing soothing properties that will reduce redness and itchiness. Top 8 Essential Oils For Healing Your Skin
2. Geranium
One of the best hormone-balancing and skin-target essential oils is geranium essential oil. It is wonderful for all sorts of skin conditions including eczema and psoriasis. Geranium essential oil is a must-have for beautiful skin in general. Don't miss: 10 Beauty Benefits of Geranium Essential Oil
3. Frankincense
Best known for its antiaging properties, frankincense essential oil is an ancient oil that has spiritual roots. It has excellent cell-healing properties that can help get your eczema and psoriasis under control. Don't miss: 10 Amazing Frankincense Oil Blend Recipes
4. Peppermint
The reason why peppermint is amazing for eczema and psoriasis is that it has a fresh, minty effect when applied on skin. Further, it gives a cooling, tingling sensation on skin. This helps to distract from the pain and itchiness, as well as soothes and calms redness. Also read: Peppermint Oil for Eczema | Home Remedy for a Cooling Relief
5. Roman chamomile
Chamomile tea is a well-known sedative and relaxant, especially consumed to help with better sleep. When applied on skin, chamomile provides intense soothing and helps calm inflammations on the skin. Spraying your skin with chamomile hydrosol can be a lifesaver for chronic skin irritation: Chamomile Hydrosol Benefits, Tips & How to Use
6. Helichrysum
Another one of the best essential oils for eczema and psoriasis is helichrysum, which has amazing anti-bacterial properties. Similarly, it also has cooling properties and anti-inflammatory properties. It is a must have for inflammatory skin conditions. Do you have eczema on your eye lids? Check out: 6 Essential Oils for Eczema on Eyelids (plus Healing Cream Recipe)
7. Sandalwood
Like frankincense, sandalwood has great spiritual connotations. It has been used in Asia since ancient times. In fact, sandalwood essential oil is has powerful anti-depressant properties. It helps defeat stress and reduces skin disorders. Don't miss: 10 Beauty Benefits of Sandalwood Essential Oil 
8. Copaiba
Copaiba is one such essential oil that is gaining traction today. It is distilled from the resin of a Brazillian tree and has woody, honey-like aroma. Essentially, copaiba is known for its respiratory-support properties because it helps with easier breathing. Moreover, it is a great air purifier. Apply diluted copaiba for relief from such skin conditions.
9. Angelica
Angelica has a spicy yet sweet aroma and is best known in the food flavoring world. Its antispasmodic and pain-relieving properties make it a good choice for soothing skin conditions. Angelica essential oil is also great at stimulating the lymphatic system, helping to get the toxins and allergens moving out of the body.
10. Rose
While rose is a luxurious essential oil, it's benefits for the skin are exceptional. If you can get yourself rose essential oil, it can do wonders for the beauty of your skin. Rose is a very soothing, relaxing and balancing essential oil that can ease eczema and psoriasis.
11. Bergamot
Citrus oils such as bergamot have intense detoxing properties that can be useful in healing skin conditions like eczema. Just make sure you don't step out into the sun after applying citrus oils because they are photosensitive and may cause mild burns.
Caution
Always apply essential oils after properly diluting them with carrier oils. For a comprehensive guide on diluting essential oils, please check out: How to Dilute Essential Oils