Did you know there are some particular essential oils for healing your skin? Different essential oils have different uses, but only some are known to be specialized for skin care.
It is a no hidden fact that more and more women are looking for skincare products to help heal their skin, but since most of the skin products contain chemicals these days, it causes more harm to your skin than good. So it is really vital to take appropriate measures in order to keep your skin healthy, younger looking and glowing. One of the best and natural ways to heal your skin and to make it healthy is to use essential oils. These oils are natural and contain numerous properties that can benefit your skin in uncountable ways.
There are thousands of essential oils – but which ones are especially good at healing skin? We'll explore the best of the best here!
Top 8 Essential Oils For Healing Your Skin Naturally
Here are the top 8 essential oils for healing your skin:
1. Carrot seed essential oil
Carrot seed is a wonderful oil to use on your skin due to its rich rejuvenating properties. It promotes the cell regeneration and helps you get softer and younger looking skin. This antioxidant rich oil also works effectively in fading scars and improves the skin tone. So next time you face any skin trouble, make sure you use carrot seed essential oils for healing your skin. Buy carrot seed essential oil here.
2. Tea tree essential oil
Tea tree essential oil is one of the best essential oils to use on acne-prone skin. Rich in anti-bacterial properties, it prevents the growth of bacteria and saves your skin from acne and other skin problem. It also balances the oil production in the skin and protects your skin from breakouts.
3. Geranium essential oil
Another great essential oil on the list, geranium essential oil is great for your skin as it stimulates the blood flow and makes your skin healthy and shiny. It also reduces the acne breakouts and helps in tightening your skin muscles. This essential oil is also widely used in treating skin problems like dermatitis, ringworms, eczema as well as for treating cuts, bruises, and wounds.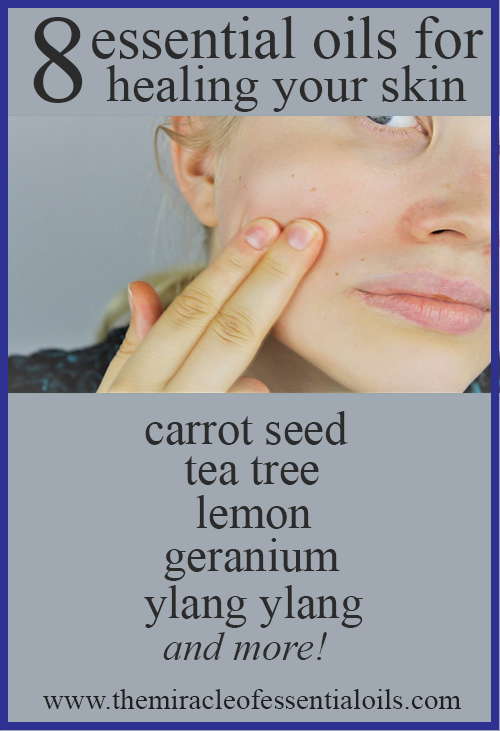 4. Ylang ylang essential oil
Everyone knows ylang ylang to be an aphrodisiac aroma. It is well-known beauty oil and is widely used in many skincare products. This essential oil has a beautiful fragrance that naturally catches your attention. It also protects your skin from acne-causing bacteria and breakouts. Ylang ylang essential oil also works wonder in maintaining the oil production, regenerates the tissues and cells, and reduces the appearance of fine lines and wrinkles. The best thing about this oil is that it suits almost all skin types. Check out 6 Benefits of Ylang Ylang for Skin Care
5. Lemon essential oil
This essential oil acts as a natural astringent and antiseptic due to its numerous healing properties. It is also the best skin remedy for all those individuals who have acne-prone or oily skin. However, those that have normal to dry skin can also use lemon essential oil to heal their skin naturally. Read more: How to Use Lemon Essential Oil
6. Frankincense essential oil
 It is a multipurpose essential oil which does not only help you heal your skin, but also acts as a wonderful natural toner that reduces the appearance of pores and protects your skin from acne. This essential oil does not only provide protection to the existing cells but also boosts the growth of new cells. It also works best in smoothing dry and chapped skin. Read more: 10 Amazing Frankincense Oil Blend Recipes
7. Lavender essential oil
Lavender essential oil is one of the widely used oil due to its exotic fragrance and long-term health and skin benefits. It is one of my favorite essentials oils for healing your skin and is also known for its calming and soothing properties. This natural oil is highly beneficial in regenerating new cells, reduces the scars and removes dark spots from your skin. This oil is also widely used in beauty soaps and skin products. Check out: How to Use Lavender Essential Oil
8. Myrrh essential oil
Myrhh is a super powerful oil that fights off the skin bacteria and protect your skin from aging. Its anti-inflammatory properties do not only make it perfect anti-aging oil, but it also improves the elasticity, firmness in the skin and lightens the tone. It also reduces the appearance of wrinkles and fine lines and treats eczema, rashes and damage caused by the sun.
Don's miss: DIY Frankincense & Myrhh Essential Oil Recipes
So next time you face any skin issue, don't forget to use the above-listed essential oils in order to treat your skin naturally. These oils will help you heal your skin easily and really quickly. Just don't forget to mix these oils with carrier oils before application to make it safe and mild for use.
Read More: DIY Essential Oil Care for Skin
DIY Essential Oil Night Cream to Nourish Your Skin