Safely and naturally clean your granite kitchen counter tops using this homemade essential oil granite cleaner!
Granite counter tops can't be cleaned like regular counter tops because they can get damaged. Same goes for marble and stone counter tops. If you use normal cleaners on them, even your DIY all-purpose cleaner, the ingredients in them like citric acid or vinegar can cause etching or them. Normal cleaners strip the seal off the granite counter tops, making it lose its sparkly and shiny finish.
We have granite counter tops in the kitchen and we take care not to use vinegar or citrus-based cleaners. You can use regular dish soap and water but if you want a nice granite cleaning solution that will leave your counter tops clean, fresh, sparkly and smelling good, then use this homemade essential oil granite cleaner!
Homemade Essential Oil Granite Cleaner Recipe
This homemade essential oil granite cleaner contains just 4 ingredients. Mix them all up and store in a spray bottle. Just spritz on the granite counter tops and wipe away with a damp microfiber washcloth. Say hello to shiny nice counter tops!
What you need:
¼ cup rubbing alcohol
1 ½ cups distilled water
3 drops liquid dish soap or liquid castile soap
10 drops peppermint essential oil
Pyrex measuring cup
16 oz spray bottle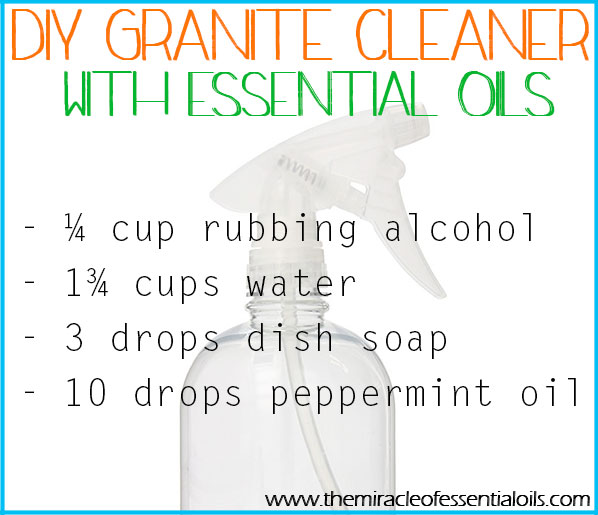 Directions:
In a Pyrex measuring cup, add ¼ cup of rubbing alcohol and 1 ¾ cups of distilled water.
Next add 3 drops of liquid dish soap or liquid castile soap, followed by 10 drops of peppermint essential oil.
Mix everything together with a spoon to form a mixture.
Pour the mixture into a spray bottle using a funnel.
Shake the spray bottle well.
To use, spray on your granite counter tops then wipe with a damp microfiber cloth.
Other Green Cleaning Recipes You'll Love
Will you give this homemade essential oil granite cleaner a try?!