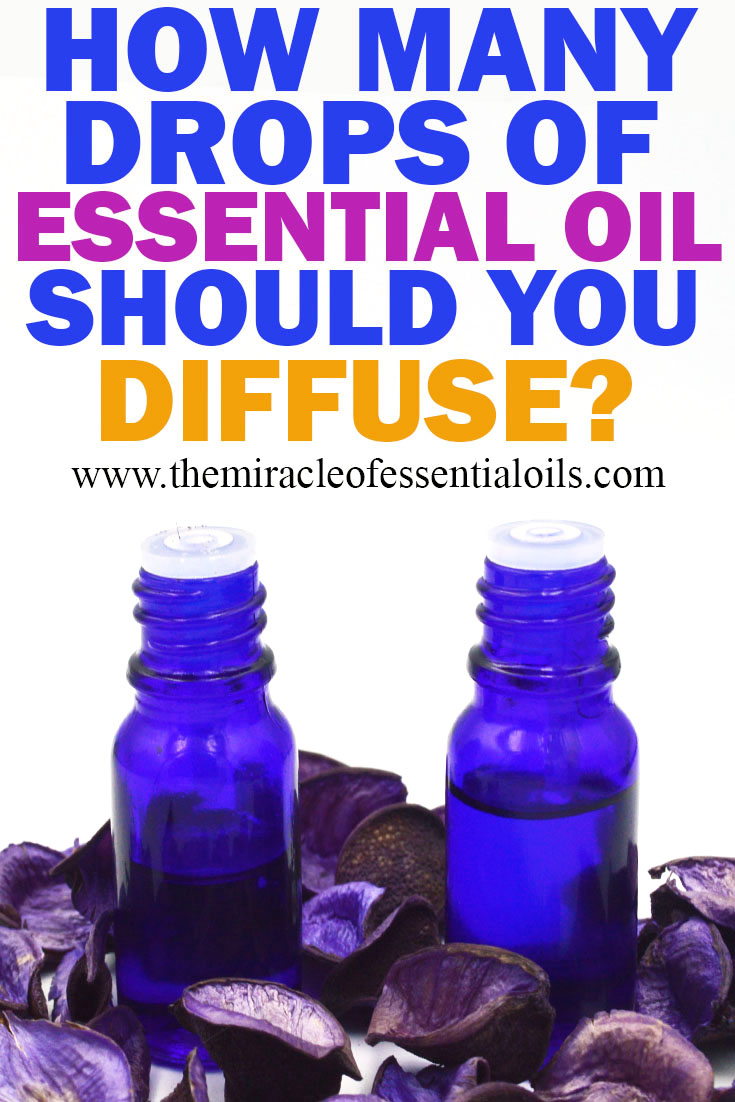 Rule of thumb when it comes to diffusing essential oils – less is more. Now that that's clear, let's look at exactly how many drops of essential oils should I use in my diffuser?
When I first got my diffuser many years ago, I poured a capful of lemongrass essential oil into it – no joke! Within seconds, the room was filled with a nauseating scent that made me feel like throwing up. Not one of my brightest moments, but it was a very important lesson that made a mark.
Why It Is Important to Use the Right Amount of Essential Oils in Your Diffuser
Essential oils are amazing potent plant extracts, which are brimming with healing properties. It's easy to get excited about them and start using them excessively in the wrong amounts. However, it is very important to know exactly how many drops of essential oils to use in your diffuser. This is because when you diffuse too much of an essential oil, it can lead to adverse reactions. Some of these include:
Nausea
Dizziness
Giddiness
Eye irritation
Headaches
How Many Drops of Essential Oils Should I Use in My Diffuser?
Diffusers come in different shapes and sizes. The amount of essential oils you use in your diffuser depends on the water capacity of your diffuser. Please check what the water capacity of your diffuser is so that you can confirm how many drops of essential oil to use:
100ml: 3 – 5 drops
200ml: 6 – 10 drops
300ml: 11 – 15 drops
400ml: 16 – 20 drops
500ml: 21 – 25 drops
600ml: 26 – 30 drops
700ml: 31 – 40 drops
Here's a handy chart showing how many drops of essential oil to use in your diffuser: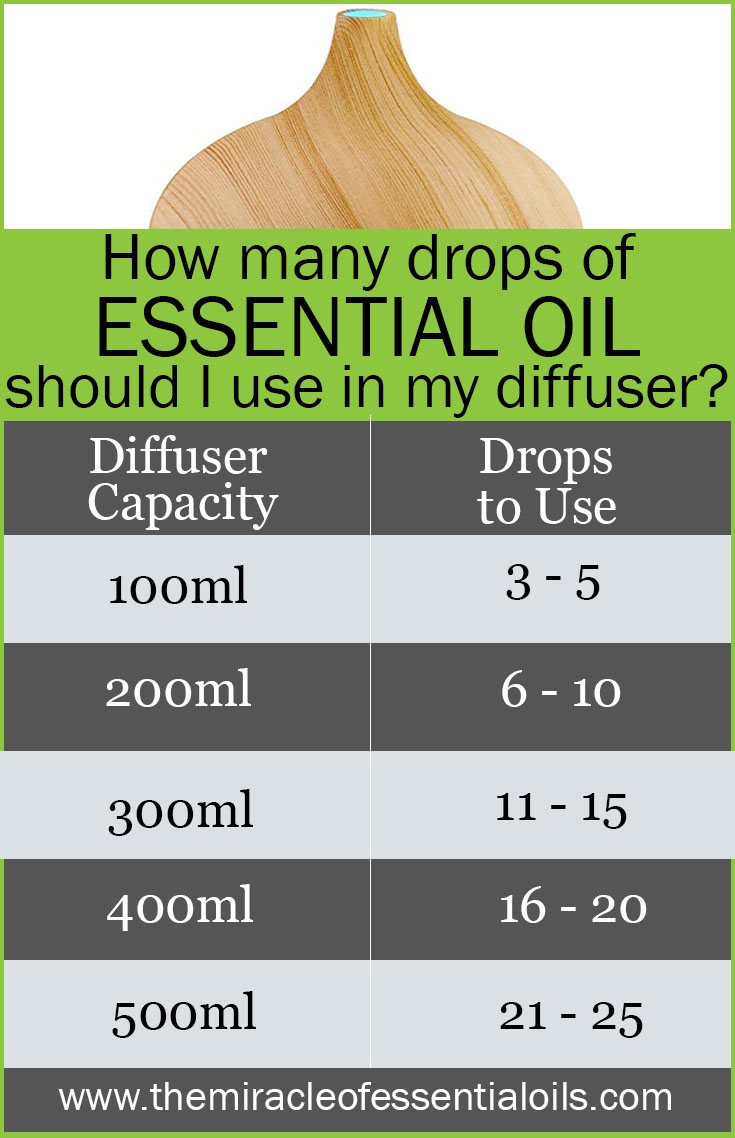 Tips and Tricks When Using Essential Oils in Your Diffuser
Are you a beginner? If this is your first time using a diffuser, always start with less than the recommended amount. For example if you have a medium-sized 300ml diffuser, start with 6 – 8 drops of essential oil, rather than the standard 11 – 15 drops recommended above.
For sensitive people & children: If you are sensitive to scents, or have kids at home, it is better to diffuse fewer drops of essential oil than the amount recommended in the chart above. That is, if you have a small 100ml diffuser, instead of using 3 – 5 drops, you can use 1 – 2 drops. Read: Essential Oils and Children | What is Safe and What is Not?
Beware of adverse reactions: Some people can have adverse reactions or allergies to certain essential oils, such as ylang ylang and bergamot. If you have any such known allergies, do not diffuse essential oils.
Diffusing around pets: Pets have different rules when it comes to essential oils. Their bodies cannot process essential oils in the same way that we can. If you find your dog barking or being restless in a room where oils are being diffused, let him out immediately. For more information on essential oils and pets, please see:
Cleaning your diffuser: After the use of each essential oil, it's best to clean out your diffuser by simply pouring out the leftover water and wiping it clean. Once in a while, you can use a solution of white vinegar to give your diffuser a deep clean. This will prolong the life of your diffuser.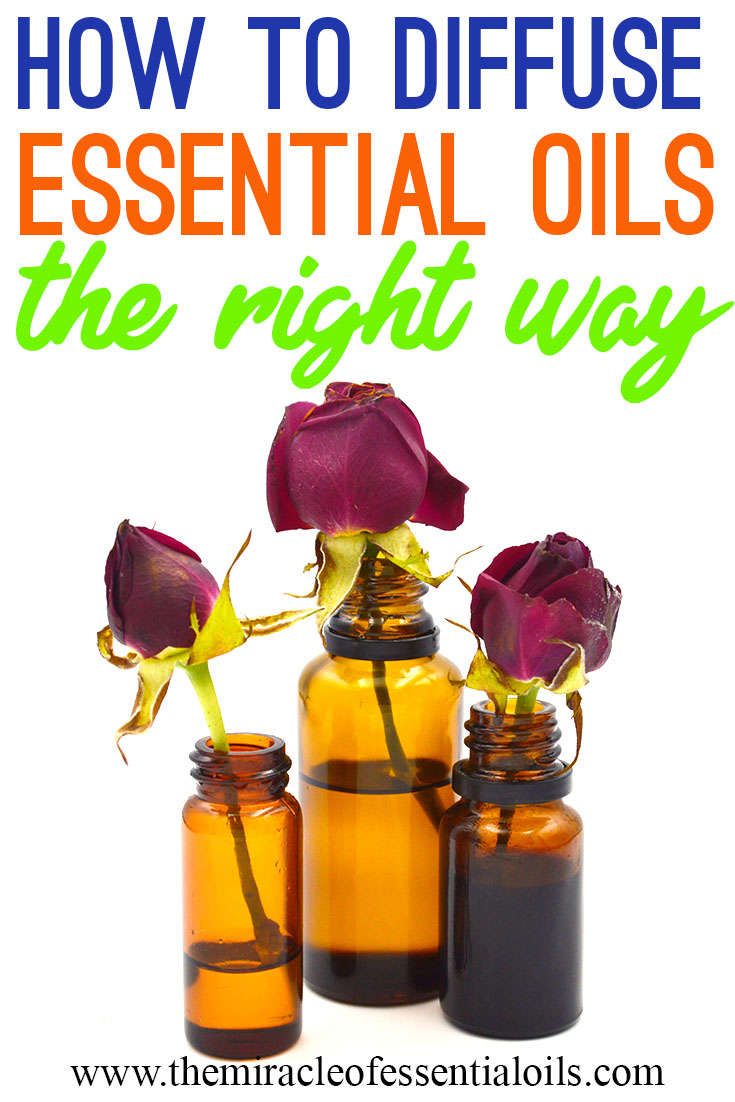 Where To Get A High Quality Diffuser
It's worth it to invest in a high quality diffuser to diffuse essential oils. This Smiley Daisy Essential Oil Diffuser, Quite Cool Mist Humidifier, 350 ml has been around for a long while and has great reviews. Smiley Daisy is a cold air diffuser, as well as a humidifier, which is great because it releases moisture into the air and is helpful in providing relief for dry skin, dry throat and cold and flu symptoms such as irritated nasal passages and more. Order below:
Smiley Daisy Essential Oil Diffuser, Quite Cool Mist Humidifier, 350 ml
This is a quality diffuser with great reviews, and is a catch at under $50, noiseless, works very effectively, can be used in any area of the home and lasts a long while!
Try These Essential Oil Diffuser Blends
Now that you know how many drops of essential oil to use in your diffuser, go ahead and try these intriguing essential oil blends for your home today: