Quit shampoo by learning how to wash your hair with essential oils!
Reasons to Wash Your Hair with Essential Oils
Essential oils are amazing for your hair. They have been proven to boost hair growth and make your hair flourish! These powerful plant extracts can be used to manage hair of all types: whether it's oily hair, dry hair, curly hair, natural hair or gray hair. If you have thinning hair, dandruff, alopecia, itchy scalp, scalp fungus or any other hair problem, essential oils can help!
What makes essential oils so good for hair is their therapeutic properties. Some of these therapeutic properties include anti-inflammatory, antibacterial, antiseptic, anti-fungal, anti-itch and more!
By washing your hair with essential oils, you can make it grow faster and thicker plus combat hair issues and leave your hair smelling gorgeous!
Which Essential Oils to Wash Your Hair With
Tea tree essential oil
Lavender essential oil
Lemon essential oil
Rosemary essential oil
Ylang ylang essential oil
Rose essential oil
Geranium essential oil
Peppermint essential oil
My favorites are lemon, rosemary, geranium and ylang ylang!
Without further ado, let's delve right into the main topic of the article which is how to wash your hair with essential oils:
How to Wash Hair with Essential Oils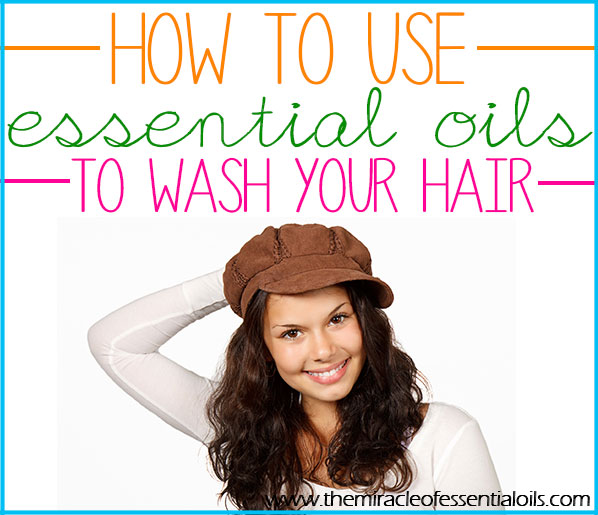 1. Add Essential Oils to Your Shampoo & Conditioner
This is by far the easiest way to wash your hair with essential oils. Simply add 20 drops of essential oils to 8 oz of shampoo/conditioner. For hair growth, add rosemary oil. For dandruff & itchy scalp, add tea tree. For beautiful scent, add geranium. And so on! Read more: Best Essential Oils to Add to Your Shampoo
2. DIY Castile Soap Shampoo
If you're into making your own shampoo, then first start with this recipe! It uses liquid castile soap, which is a natural vegan soap that lathers! Here's the easy recipe:
What you need
¼ cup liquid castile soap
½ cup distilled water
2 tbsp vegetable glycerin
2 tbsp pure aloe vera gel
20 drops your preferred essential oil
Funnel
Foaming soap dispenser or any storage container
Directions
Using a funnel, pour ½ cup of distilled water into a foaming soap dispenser. Next pour in ¼ cup of liquid castile soap.
Add 2 tbsp each of vegetable glycerin and pure aloe vera gel.
Finally, add all your essential oils drop by drop.
Close the bottle and shake well to combine all ingredients.
Voila! Your DIY shampoo is ready!
3. DIY Egg Shampoo
I like mixing up my own homemade shampoos using kitchen ingredients! It's so easy, fun and nourishing to the hair follicles! This egg shampoo is an AMAZING shampoo. It cleans hair so well and makes it unbelievably fluffy and soft. The essential oils will mask the egg-y smell, don't you worry!
What you need
1-2 eggs, depending on your hair length and thickness
7 drops lemon essential oil
7 drops ylang ylang essential oil
Bowl & spoon
Directions
Crack an egg or two into a bowl.
Now add 7 drops each of lemon and ylang ylang essential oils.
Mix the two ingredients with a spoon. Don't mix too hard or you'll make the egg watery and it'll be messy when applying. Just break the yolk and mix everything for a couple of seconds.
Apply the mixture on your dry hair and scalp.
Cover with a shower cap and leave it for 15 minutes.
When the time is up, rinse off thoroughly with tepid/cold water. Do not use hot water. There's no need to use conditioner because egg is conditioning but if you want, feel free to use a dime sized amount of coconut oil as your conditioner. Or use this DIY Essential Oil Conditioner
When your hair is dry, it'll be fantastic!
4. DIY Dry Shampoo with Essential Oils
Check out our DIY Dry Shampoo with Essential Oils! Dry shampoo is when you don't have enough time to wash your hair before you head out. Or you can't use water to wash your hair for whatever reason.
Other Shampoo Recipes with Essential Oils You'll LOVE
Caution
If you're new to essential oils, please first read Caution and Safety when Using Essential Oils