Other than facial, skin and hair care, nails and cuticles care is also a vital part of our beauty routine as proper nail care makes our nails look healthy and attractive. In fact, it is not wrong to say that having healthy, radiant nails makes us feel more beautiful! No matter if it is done for personal pleasure or to complete that professional appearance, nail care is highly crucial part of anybody's hygiene routine. But if you are someone whose nails break or split easily or have cuticles, then using essential oils for cuticles and nails can really help you make them strong and healthy.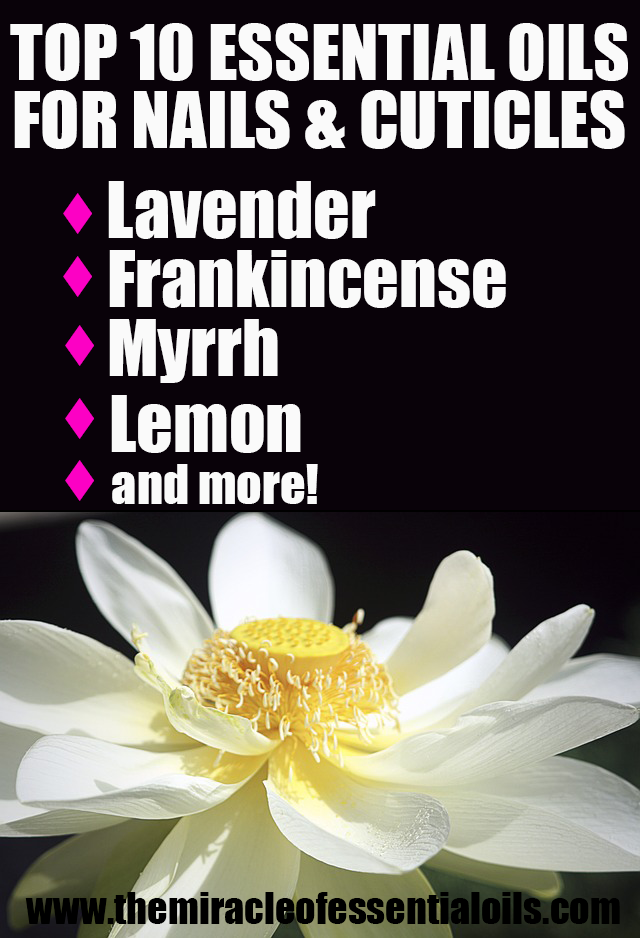 DIY Cuticle & Nair Care
You can make your own cuticle and nail care products with essential oils at home:
Top 10 Essential Oils for Cuticles and Nails
Let's have a look at the top 10 essential oils for cuticles and nails:
1. Lavender essential oil
This is undoubtedly the best and multipurpose oil that strengthen your nails as well as the cuticles by keeping them healthy and moisturized. Lavender oil also comes packed with antibacterial properties that work effectively in fighting off germs and bacteria that can lead to cuticle formation. Also, if you are someone who gets dry skin around the cuticles, then you can also use lavender oil to moisturize and hydrate your skin. Don't miss: How to Use Lavender Essential Oil
2. Frankincense essential oil
A perfect essential oil to use for cuticles and nails, frankincense is filled with amazing properties. This oil dates back to ancient time and is highly effective in promoting nail growth. Widely known for its moisturizing properties, it also protects your cuticle from peeling and infection. Another benefit of using Frankincense essential oil for nails is that it fights off fungus and promotes the growth. Don't miss: 10 Amazing Frankincense Oil Blend Recipes
3. Myrrh essential oil
Myrrh essential oil is great for your nails, just like frankincense. It naturally moisturizes your nails, helps your nails grow as well as protect the cuticles from dryness. Not only this, it also protects your nails from brittleness, thinning and breakage. So if you really want strong and healthy looking nails, then myrrh essential oil is one of your choices. Don't miss: DIY Frankincense & Myrrh Essential Oil Recipes
4. Lemon essential oil
One of my fave essential oils, lemon, is a versatile, multipurpose essential oil. In other words, you can use this essential oil for a million uses. Lemon essential oils contain properties that can make your yellow nails turn white and can make them shine instantly. All you need to do is rub some lemon essential oil to your nails with the help of cotton balls. Don't miss: https://www.themiracleofessentialoils.com/how-to-use-lemon-essential-oil/
5. Geranium essential oil
For nails to be healthy and strong, it is really important to moisturize them well and to achieve that you can use geranium essential oil. It is rich in antioxidants and is popular in skin care. This is one of the best remedies to keep your nails moisturized for a long period of time. It also heals the dry cuticles and smoothes the skin around your nails. It comes loaded with antibacterial and antiseptic properties that save your nail from fungus and infections. Don't miss: 10 Beauty Benefits of Geranium Essential Oil
6. Carrot seed essential oil
 You will find carrot seed essential oil as a key ingredient in many nail products. This oil contains regenerative properties, which perfectly moisturizes the skin and is undoubtedly the best essential oil for nails and cuticles. It can also be used as antiseptic, disinfectant, diuretic and much more. Don't miss: 9 Beauty Benefits of Carrot Seed Essential Oil
7. Tea Tree essential oil
We all know that tea tree is most famous for keeping bacteria and infections at bay is another great essential oil to use for nails and cuticles. This oil is extremely potent and comes with wonderful healing powers. So if you want stronger nails, then tea tree essential oil is all you need. Don't miss: DIY Essential Oil Acne Face Wash with Tea Tree
8. Roman Chamomile essential oil
If you have bent and flaky nails roman chamomile essential oil can help your nails in numerous ways. It can also heal ingrown nails and cuts. This oil can also treat yellow pigmentation caused by nail polish remover. Overall it is a great remedy to consider for nails and cuticles. Don't miss: 12 Wonderful Beauty Benefits of Chamomile Essential Oil
9. Eucalyptus essential oil
The enemy of nail fungus is eucalyptus essential oil. It is one such oil that nail fungus strongly hates. It fights off infection around your nails, treats dry cuticles, boost blood flow while promoting the growth of your nails naturally. This miracle oil has a wide range of uses.Don't miss: How to Use Eucalyptus Oil | 25 Fun Ways!
10. Rosemary essential oil
The antioxidants found in rosemary essential oil allow your body to heal itself. It is also the ideal oil that keeps skin and nail diseases at bay. It contains all the properties that can help your nails grow stronger and prevent the formation of cuticles. In the same way that rosemary oil is useful for faster hair growth, it also helps to boost nail growth.
Now that you know the best essential oils for nails and cuticles, select your favorite to keep them radiant and vibrant.