Discover how to dilute essential oils for spray recipes and find 15 exciting essential oil spray recipes for everyday use!
Essential oil sprays are very handy and don't require getting your hands messy during applications. In this article, get ready to find out how to dilute essential oils for spray recipes and 15 ways to enjoy them in your daily life!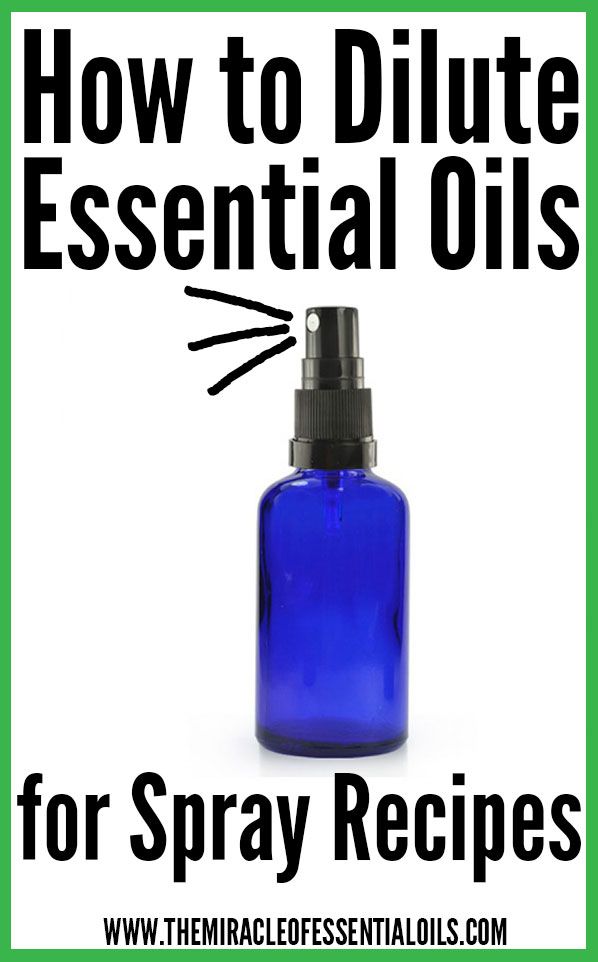 Essential oils are pure plant extracts that are highly concentrated. A drop of essential oil goes a long, long way. How concentrated are they? Well, imagine this, to get just two pounds of lemon essential oil, you will need 3000 lemons. See how potent they are? You definitely do not want to use more drops than necessary or you'll risk suffering from chemical burns.
When it comes to essential oil spray recipes, they're almost always water-based. That's because water is the best thing to dispense in a spray bottle. But you can have alcohol-based or oil-based essential oil spray recipes too!
Alcohol-based spray recipes are mainly for DIY essential oil perfume making while oil based sprays can be for non-messy essential oil applications for people who don't want to get their hands oily. However, oil is heavy and can clog up your spray bottle so it isn't an ideal base for a spray recipe. Other base ingredients for spray recipes are witch hazel and hydrosols.
How to Dilute Essential Oils for Spray Recipes
How do we dilute essential oils for spray recipes? Follow these steps:
First you're going to choose your base ingredient: water, witch hazel or hydrosol. For a 4 oz spray bottle, you'll need a little under 4 oz of base ingredient.
Next, choose your emulsify which will mix up your essential oils. This part is important because water doesn't mix with essential oils. You will need to emulsify the essential oils to boost the effectiveness of your essential oils and also protect your skin from the essential oils. You will need 1-3 tsp of this emulsifier. Good emulsifiers are rubbing alcohol, vegetable glycerin, witch hazel, pure aloe vera gel, Epsom salts, baking soda, etc. Please see: Natural Emulsifiers for Essential Oils
Now select the essential oils you're going to be using.
Finally, mix up the ingredients in a spray bottle!
15 Exciting Essential Oil Spray Recipes
Now that we know how to dilute essential oils for spray recipes let's check out 15 ways to use this fantastic mixture in our everyday lives!
1. Sunburn Soothing Spray
We have a super soothing DIY Essential Oil Sunburn Spray on the blog. Follow the link to check out the easy and effective recipe!
2. DIY Body Mist
Body mists are hydrating, cooling and smell amazing as well! Check out our 6 Essential Oil Body Mist Recipes
3. DIY Facial Toner
Surprise, surprise! We have TWO DIY facial toners starring essential oils on the blog! The first one uses lemon essential oil and is a good astringent that also brightens skin: DIY Lemon Essential Oil Face Toner. The second one is one containing only witch hazel and essential oils: DIY Witch Hazel Essential Oil Toner. It's great for sensitive skin and acne!
4. Hair Growth Spray
People just LOVE this DIY Essential Oil Hair Growth Spray. It gets blood flowing properly to each and every hair follicle and stimulates them to produce stronger, longer and thicker hair. It also busts dandruff and scalp itchiness!
5. DIY All-Purpose Cleaner Spray
It's time to make your own DIY All-Purpose Cleaner! This recipe is so effective plus so minimal and NATURAL. Give it a shot!
6. Homemade Peppermint Rosemary Spray
Tired feet, foot fungus, athlete's foot can all be treated naturally using this Homemade Peppermint Rosemary Foot Spray
7. DIY Flea Spray
Kills fleas naturally in your home or on your dogs using this DIY Flea Spray
8. DIY Perfume Spray

Try this amazing DIY Essential oil Perfume Spray recipe!
9. DIY Shoe Spray
Stinky shoes? Not anymore with this DIY Essential Oil Shoe Spray
10. DIY Air Freshener Spray
God, please stop using toxic air fresheners and start making your own because it's incredibly easy to! Check out our DIY Air Freshener Spray
Other Essential Oil Spray Recipes
11. DIY Linen Spray
12. DIY Dog Spray
13. DIY Disinfectant Spray
14. DIY Bug Repellent Spray
15. DIY Deodorant Spray
Note: For more essential oil spray recipes, please search 'Spray' on the Search Box in the upper right hand corner of the page!
Now that you know how to dilute essential oils for spray recipes, what are you going to be using it for? Air freshener, sunburns, facial toning or something entirely different & exciting?! Tell us in the comments below!