Acne is the bane of smooth skin for many people around the world. It affects teenagers mostly but can also affect adults! I myself have acne and I get cystic acne often! UGH. Adult acne sucks!
I've been using essential oils to naturally treat my acne. It makes me feel good to know that I don't need benzoyl peroxide and other over-the-counter acne treatments when I have all natural anti-acne essential oils on hand!
In this article, I want to share with you some great ways on how to use essential oils for acne! But first, let's check out some effective essential oils for acne:
Tea tree oil
Lavender oil
Geranium oil
Oregano oil
Rose oil
Rosemary oil
Bergamot oil
To know more about these oils, please read:
How do Essential Oils Work for Acne?
Now that we know of some great essential oils to use for acne, you might be wondering, how exactly do they work? What properties do they have? Below I'll list some of the powerful properties essential oils have that help naturally treat acne:
Disinfect skin
Fight off acne-causing bacteria
Purify pores
Tighten large pores
Soothe inflammation
Reduce redness
And more!
How to Use Essential Oils for Acne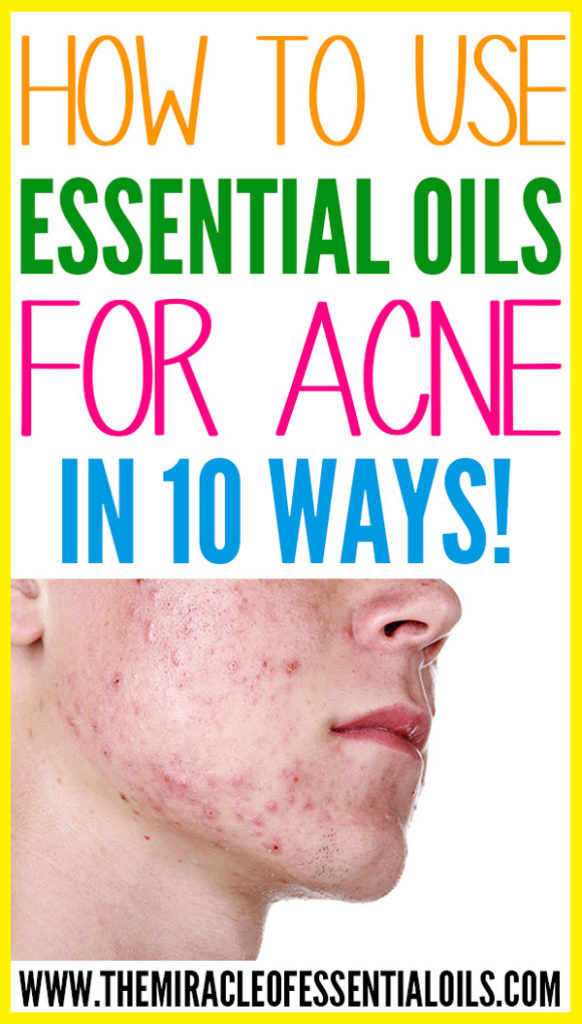 Okay, onto the main part of this article – how to use essential oils for acne! There are several ways you can use essential oils for acne! Check them out below! These are our favorite ways and they sure are very effective in getting rid of pesky pimples and angry acne!
1. DIY Face Wash
We have a nice DIY Essential oil Acne Face Wash on the blog. You must check it out! It's all natural plus contains the powerful anti-acne tea tree oil!
2. DIY Facial Toner
If you have oily acne prone skin, then you definitely need a toner to reduce excess oils and tighten up large pores. Please check out our DIY Witch Hazel Essential Oils Face Toner
3. DIY Essential Oil Blend for Acne
Essential oil blends are formulations designed for a particular ailment. For acne in particular, I've found this DIY Essential Oil Blend for Acne, starring black seed oil and essential oils, to work like a charm!
4. Aloe Vera Gel + Essential Oils Mix
Ahh…aloe vera gel is so soothing and luxurious for angry red acne. Mix in some essential oils and it becomes a potent antibacterial acne fighter! Check out our recipe: DIY Antibacterial Acne Essential Oil Recipe
5. DIY Essential Oil Spot Treatment
Spot treatments are great for large cystic acne. Try this gentle but effective DIY Essential Oil Spot Treatment with shea butter and essential oils.
6. DIY Essential Oil Face Mask for Acne
Face masks are one of my most fav at-home treatments for acne! They're so inexpensive and easy! Check out our DIY Essential Oil Face Mask for Acne here!
7. Homemade Cream for Acne with Tea Tree Oil
This is by far by the easiest yet very effective acne cream: Homemade Cream for Acne with Tea Tree Oil
Other Ways to Use Essential Oils for Acne
8. Directly on large pimple. Okay, so this isn't something I'd recommend because using essential oils undiluted can burn your skin. I know tea tree essential oil is one of the few oils that can be used undiluted. However, it's not for all people. Those with sensitive skin will have problems with undiluted tea tree oil. But basically, what you do here is put a drop of tea tree essential oil or lavender essential oil on your index finger and dab it on your large pimple. Do not use undiluted essential oil on a large area of skin. It only must be used on large pimples. Wash your hands properly with soap after!
9. Add it to your face wash, usual moisturizer, night cream, etc. You don't want to make your own DIY face wash, toner, etc? It's okay! You can still add essential oils directly to your usual face wash bottle, acne moisturizer, night cream and any other product you use. For 8 oz of product, add about 10-15 drops of essential oil.
10. Facial steaming. Do facial steaming with tea tree oil to open up your pores, drive out the acne-causing gunk. Use tea tree essential oil for facial steaming for acne. Here's how to do it: DIY Facial Steaming with Essential Oils
That's it! Those are the best ways on how to use essential oils for acne! Do you have any other way you use essential oils for acne? Share below!